3watt 355nm Polymers Material LCD Laser Marker
3watt 355nm Polymers Material LCD Laser Marker
Rubylasertech

Jinan,China

10-12 working days

30 sets each month
1.This 3Watt UV fiber laser marker has Free maintenance and low operation cost features.
2. The 355nm fiber alser marker adopts Gavlo scanhead system which makes the marking speed up to 7000mm/s.
3. its Re-position precision can be 0.002mm.
4. The LCD fiber laser marker has high reliability: Up to 100,000+ hours productivity
UF-3 UV Fiber Laser Marker
Feature
1.This 3Watt UV fiber laser marker has Free maintenance and low operation cost features.
2. The 355nm fiber alser marker adopts Gavlo scanhead system which makes the marking speed up to 7000mm/s.
3. its Re-position precision can be 0.002mm.
4. The LCD fiber laser marker has high reliability: Up to 100,000+ hours productivity
5. The polymers material fiber laser marker is easy for operation. English user manual,VCD training video, Software are n udisk with laser marker.
6. The 355nm 3W fiber laser marker supports PLT, DXF, AI, BMP, or PNG. EZcad can directly use SHX, TTF fonts.


Specification

1. Fiber laser generator:USA or chinese JPT 3W,5W,8W oro thers
2. Frequency:1-1000hz
3. Output power:20W
4. Laser wavelength:355nm
5. Max marking speed:70000mm/s
6. Repeat position precission:0.003mm
7. Resolution:0.001mm
8. Scope marking:F+160mm 150x150mm is optional
9. Min character:0.25mm
10. Min line width:0.01mm
11. Lifting range:0-600mm
12. Cooling method: Air or water cooling
13. Input voltage:AC110/220V 50-60HZ

Applicable Industries:
Precision instruments, computer keyboards, auto parts, plumbing parts, communications equipment, medical equipment , bathroom equipment, hardware tools, luggage decoration, electronic components, home appliances, watches, molds, gaskets and Seals, data matrix, jewelry, cell phone keyboard, buckle, kitchenware, knives, cooker, stainless steel products, aerospace equipment, integrated circuit chips, computer accessories, signs molds, elevator equipment, wire and cable , Industrial bearings, building materials, hotel kitchen, military, pipelines.
Tobacco industry, bio-pharmaceutical industry, liquor industry, food packaging, beverage, health care products, plastic buttons, bathing supplies, business cards, Clothing accessories, cosmetics packaging, car decoration, wood, logos, characters, serial number, bar code, PET, ABS, pipeline, advertising logo and other non-metallic industries.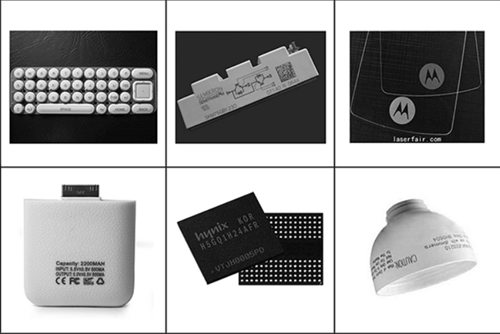 When CO2 laser tube doesn't output laser and how to check CO2 power supply works normally? 1. Check if water circulation is normal(mainly check if water flows smoothly at cooling water outlet ). If not any water or water doesn't flow smoothly, please check water pump and clear water pipe. 2.If water circulation is good, please check CO2 laser power supply. Check if power supply's indicators
...more