50W Organic Glass Acrylic Crystal Fiber Laser Markers
50W Organic Glass Acrylic Crystal Fiber Laser Markers
Rubylasertech

Jinan,China

14-16 working days after payment received

20 Sets each month
1.This 50W fiber laser markers are suitable for all kinds of 3D curve surface, some irregular surface and flat surface marking. This laser markers can automatically adjust laser focus length according to the 3D surface shape.
2. The organic glass fiber laser markers'sdefault marking area is 200X200mm big marking area. Under the premise of standard marking range, z-axis can achieve large variable focal length marking range.
3.High precision marking can be realized on this acrylic crystal fiber laser markers. The three-axis scanning system can adjust the focus length automatically and eliminate the range
LF-50 Enclosed Type Fiber Laser Markers
Features
1.This 50W fiber laser markers are suitable for all kinds of 3D curve surface, some irregular surface and flat surface marking. This laser markers can automatically adjust laser focus length according to the 3D surface shape.
2. The organic glass fiber laser markers'sdefault marking area is 200X200mm big marking area. Under the premise of standard marking range, z-axis can achieve large variable focal length marking range.
3, High precision marking can be realized on this acrylic crystal fiber laser markers. The three-axis scanning system can adjust the focus length automatically and eliminate the range deformation and spot deviations from the characteristics of traditional F lens.
4.High degree of consistency and repeat ability make this 50watt fiber laser markers suit for 3D deep marking. The max 130mm deep marking,supports emboss and intaglion and support STL files marking.
5, With over 100,000 hours working life, this acrylic crystal fiber laser markers need no maintenance during this period.
6, FDA Compliant, CE Certification, ISO9001 Quality Certification.
7,. Win 10 computer, LCD monitor, keyboard, mouse all include, mini model exclude computer can compatible with Win 7/8/1032bits or 64bits laptop n this organic glass fiber laser markers.
8, With USB Interface and U-Flash Disk Supported, this 50 watt fiber alser markers can read files from memory stick.
9, Closed shape model, no harm to operator and environmental protection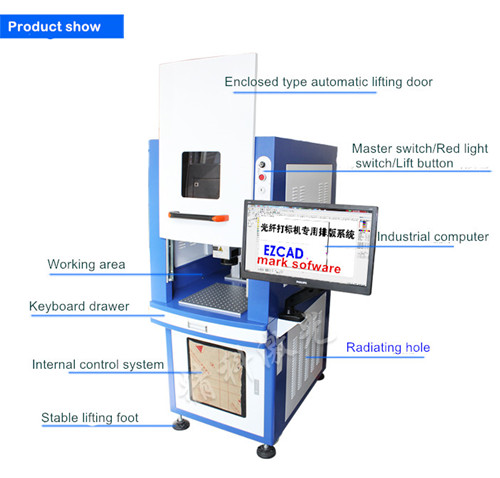 Specification
1.Laser power: 20W,30W,50W
2.Wavelength: 1064um
3.Laser beam quality: Less than 2(M2)
4.Min character: 0.05mm
5.Min line width: 0.012mm
6.Repeatability precision: 0.002mm
7.Control interface: USB
8.Control method: PC control and automatic laser marking
9.Fiber laser lifetime: More than 100000 hours
10.Cooling system: Internal air cooling or water cooling
11.Electrical power: INPUT 110/220VAC,total power consumption is 500W
12.Machine size: 900x650x1600mm
13.Machine weight: 90kg
14.Marking thickness: More than 0.5mm
15.Marking speed: More than 7000mm/S
16.Working table: 70x70mm,110x110mm,200x200mm or 300x300mm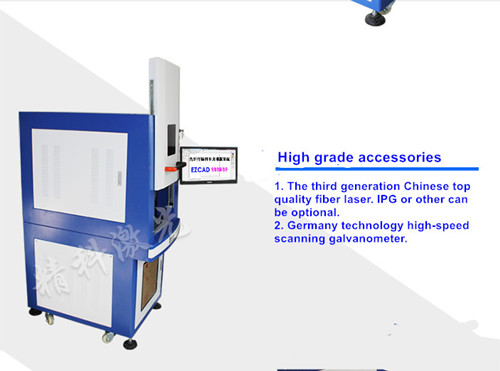 Applicable Industries
Mobile phone keypad, electronic components, integrated circuits (IC), electrical appliances,communication products, sanitary ware, tools, luggage buckle, accessories, knives, eyeglasses and clocks, jewelry, plastic translucent keys,auto parts,cooking utensils, stainless steel products and other industries.
Applicable Materials
Metals (steel, titanium, copper, gold, silver, including rare metals), engineering plastics, electroplating materials, plastics, rubber, epoxy resin, ceramic,,coating materials, ABS, PVC, PES and other materials.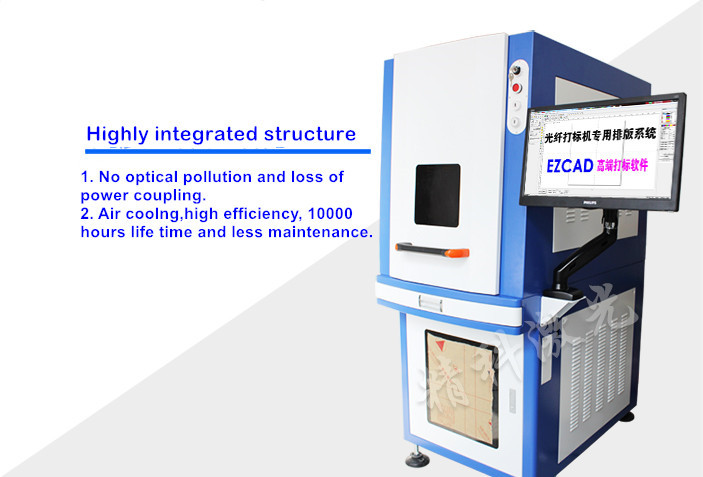 When CO2 laser tube doesn't output laser and how to check CO2 power supply works normally? 1. Check if water circulation is normal(mainly check if water flows smoothly at cooling water outlet ). If not any water or water doesn't flow smoothly, please check water pump and clear water pipe. 2.If water circulation is good, please check CO2 laser power supply. Check if power supply's indicators
...more