LCD Energy Feedback Welding YAG Laser Power Supply
LCD Energy Feedback Welding YAG Laser Power Supply
Rubylasertech

Jinan,China

10-12 working days after payment received

30 sets each month
1.This LCD YAG laser power supply adopts modular design, single lamp, single box and compact structure which is easy for installation.
2. The welding YAG laser power supply has LCD control (with spare keyboard) which is friendly human-computer interface, and convenient for user's use and operation,
3. The energy feeback YAG laser power supply can realize the user's remote operation (LCD screen can be far away from the use of laser welding machine);
Eneergy feedback Single Lamp YAG Laser Power Supply

Feature
1.This LCD YAG laser power supply adopts modular design, single lamp, single box and compact structure which is easy for installation.
2. The welding YAG laser power supply has LCD control (with spare keyboard) which is friendly human-computer interface, and convenient for user's use and operation,
3. The energy feeback YAG laser power supply can realize the user's remote operation (LCD screen can be far away from the use of laser welding machine);
4..The LCD YAG laser power supply provides 8 groups of 8-segment functions, and each group of laser processing parameters can realize arbitrary setting of 8-segment waveform at most.
5. 8 sets of data can realize the external dynamic switching function of laser (optional) on this welding YAG laser power supply.
6. This energy feeback YAG laser power supply's laser output frequency can be up to 100Hz (standard configuration is 50Hz);
7. This LCD YAG laser power supply's data communication based on industrial control fieldbus, which has strong anti-interference ability.
8. The welding YAG laser power supply's stable current modulation pulse output waveform makes long time continuous operation without fault.
9.Relevant detection nodes in theEenergy feedback YAG laser power supply are complete, with prompt and alarm functions for operation, and relevant protection functions of the system are avoided equipment damage caused by user's misoperation;
Specification
1.Input voltage: three-phase four wire AC 380V ± 10%, 50Hz
2.Number of pump lamps: 1pcs
2.Rated power: 6kw
3.Display: 128 × 64 dot matrix LCD module
4.Keyboard: 1 × 6 operation keyboard
5.Laser current: 80-400a, current instability less than 3%
6.Laser frequency: 0-50Hz (higher frequency can be set according to the user's requirements, up to 100Hz)
7.Laser pulse width: 0.1-20.0ms, step distance: 0.1ms
8.Memory capacity: 8 sets of laser power parameters, each set of up to 8 waveforms
9.Alarms: alarm information record display
10.Working temperature: - 10 ℃ ~ 35 ℃
11.Continuous working time: more than24 hours
12.Box size: 43cm (W) × 57cm (d) × 20cm (H)
15.Operating weight: About 25kg
Application
Spot welding, mold welding, continuous laser welding machine under 150W laser power.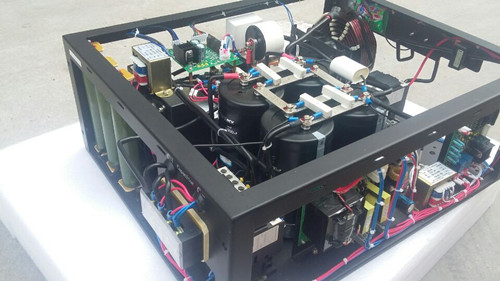 When CO2 laser tube doesn't output laser and how to check CO2 power supply works normally? 1. Check if water circulation is normal(mainly check if water flows smoothly at cooling water outlet ). If not any water or water doesn't flow smoothly, please check water pump and clear water pipe. 2.If water circulation is good, please check CO2 laser power supply. Check if power supply's indicators
...more