LCD Shutter Handheld Mold Repair YAG Laser Welder
LCD Shutter Handheld Mold Repair YAG Laser Welder
Rubylasertech

Jinan,China

10-12 working days after payment received

20 sets each month
1. The LCD shutter YAG laser welder's cavity is covered by ceramics made in UK. So it has corrosion resistant and high temperature resistant, with 8-10 years service time. The time of xenon lamp bears more than 8 million times flashing.
2. Advanced light shielding system can eliminate the irritation to eyes by laser during mold repair YAG laser welder working.
3. The handlheld YAG laser welder's laser head can rotate for 360°, lift up and down, move left and right, go forward and backward
RW-200Y Mould Repair YAG Laser Welder
Introduction
This mold reapair YAG laser welder was specially designed for mold industry and mainly used for repairing precision molds, such as mould of digital products, mobile phone, toy, automobile and motorcycle. By applying suitable soldering wires, it is possible to fill the crack or blowholes and reuse the mold which saves production cost and improves working efficiency significantly. General laser mould welder also can be used in metal sheet stitching welding, pipe or tube conjunction welding and manufacturing of sensor, level switch and fine auto parts, etc.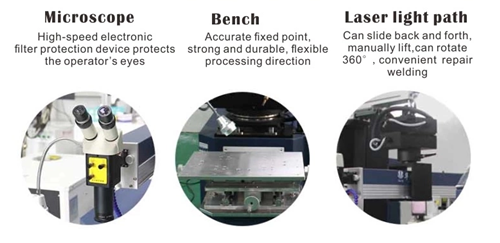 Features:
1. The LCD shutter YAG laser welder's cavity is covered by ceramics made in UK. So it has corrosion resistant and high temperature resistant, with 8-10 years service time. The time of xenon lamp bears more than 8 million times flashing.
2. Advanced light shielding system can eliminate the irritation to eyes by laser during mold repair YAG laser welder working.
3. The handlheld YAG laser welder's laser head can rotate for 360°, lift up and down, move left and right, go forward and backward
4. The parameters of mold reapair YAG laser welder are controlled by intelligent remote controller, which is simple and convenient operation.
5. This LCD shutter YAG laser welder's work bench can be lifted, and moved in three dimensions.
6. The size of light spot can be adjusted accordingly and automatically.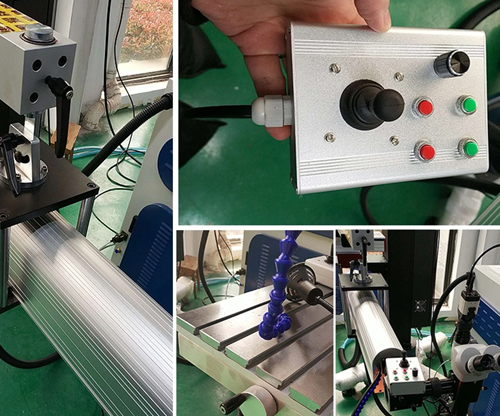 Specification
Product name

Moold repaire YAG laser welder

Model No

RW-200Y

RW-400Y

Laser power

200W

400W

Laser type

YAG pulsed

3 axis stroke

X=300mm,Y=200mm,Z=250mm,X&Y is manual, Z is auto

Workbench load

Less than 200KG

Input voltage

220V±10%/50Hz

380V±10%/50Hz

Laser spot range

0.1~0.3mm

Diameter of welding wires

0.2-2mm

Diameter of welding spot

0.2-3mm

Laser Wavelength

1064nm

Laser energy

60J

90j

Pulse Width

0.3-20ms

Pulse Frequency

0.1-50Hz

Laser Output Focal Length

80mm/100mm/120mm

Laser cooling

Water cooling

Observing System

Microscope 360º rotatable or CCD (optional)

Shield gas

One line(argon)

Welding Wire Diameter

0.1mm~0.8mm

Machine Weight

300kg

Power Consumption

12KW
Applicable Industry:
1. Widely applied in the fields of aeronautical and space, mechanism, electron, communication, dynamic,Chemical, automobile manufacture and other industries.
2. The welding of automobile spare parts, such as hydraulic pressure jib, gasoline cleaner, left gas sensor,Electromagnetic valve, and drive starting stator.
3. The close welding of lithium ion batteries, such as mobile phone batteries and power batteries.
4. In metallurgy industry, such as silicon steel plate welding.
5. The welding of engine and engine lamina in application military industry.
6. The precise spot welding of the electronic components and close welding of relay.
7. In electrical equipments industry, such as silicon steel sheet welding, the rotor of the airconditioner Drive welding, and creepage protection welding.
Applicable Materials:
Materials that can be welded are extensive: cold work alloy steel, hot work alloy steel, nickel tool steel, steel alloy, high tenacity aluminum alloy, etc. Other metals like gold, silver, brass, aluminum-magnesium alloy, titanium, and platinum are also applicable.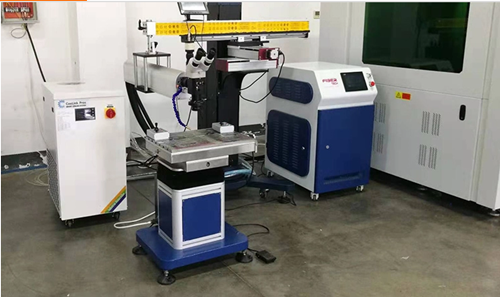 When CO2 laser tube doesn't output laser and how to check CO2 power supply works normally? 1. Check if water circulation is normal(mainly check if water flows smoothly at cooling water outlet ). If not any water or water doesn't flow smoothly, please check water pump and clear water pipe. 2.If water circulation is good, please check CO2 laser power supply. Check if power supply's indicators
...more