150W Toys Model High Speed Laser Die Cutting Machine
150W Toys Model High Speed Laser Die Cutting Machine
Rubylasertech

Jinan,China

14-16 working days after payment received.

10 sets each month
1. This laser die cutting machine is equipped with the laser power supplies produced by the factory itself.
2.Imported precision ball screw and imported servo drives make this CO2 laser die cutting machine has running high precision.
3. The open processing platform can improve the plank usage as much as possible;
LC-1212 600W CO2 Laser Die Cutting Machine
Feature

1.This CO2 laser die cutting machine adopts the principle of constant light path design. It keeps laser in the process of device running, materials are fixed on the platform with the moving platform, thus, it can ensure the stability of the optical path.
2. This laser die cutting machine is equipped with the laser power supplies produced by the factory itself.
3.Imported precision ball screw and imported servo drives make this CO2 laser die cutting machine has running high precision.
4. The open processing platform can improve the plank usage as much as possible;
5. Sealed machine tool structure makes the precision deiving part not easy to be contaminated.
6. Unique exhaust system also can improve the processing environment.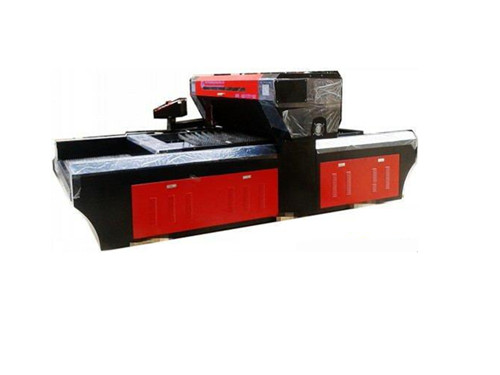 Specification
1. Laser type: 400W,600W or 800W CO2 laser
2. Laser wave length:10.6um
3. Working area:1250x1250mm
4. Repeat position accuracy:0.02mm
5. Power supply: INPUT 220VAC 50HZ default
6. Total power:10KW for 400W,12KW for 600W and 14KW for 800W
7. Total weigth:1.5T for 400W, 1.6T for 600W and 1.7T for 800W
8. Machine size:3000x5000x7000mm:
Application Industry:
Printing, packaging, knife mold, advertising industry, etc.
Applicable materials:
Board, MDF, acrylic board, steel plate, stainless steel plate, etc.
When CO2 laser tube doesn't output laser and how to check CO2 power supply works normally? 1. Check if water circulation is normal(mainly check if water flows smoothly at cooling water outlet ). If not any water or water doesn't flow smoothly, please check water pump and clear water pipe. 2.If water circulation is good, please check CO2 laser power supply. Check if power supply's indicators
...more