Cabinet IPG 50W Jewelry Hardware Fiber Laser Marker
Cabinet IPG 50W Jewelry Hardware Fiber Laser Marker
1.The cabinet type fiber laser marker has X and Y axis bidirectional mobile platform and 360 degrees rotary fixture which is good for plane, cylindrical or conicalness marking.
2.The 50W IPG fiber laser marker adopts EZCAD motherboard . This software can be matched with CorelDraw, AutoCAD, Photoshop and others.
3.This jewelry hardware fiber laser marker also has following advantages: small volume, avoid consumables, flexible degree is high, use 5-100000 hours and hours without power attenuation problem
LF-50 Desk Type Fiber Laser Marker
Features
1.This Cabinet type fiber laser marker uses air cooled cooling systerm which is easy and quickly installation. USB port also is used on this laser marker for wiring connection.
2.This IPG 50W fiber laser marker can be applied for: text, graphics, serial number, serial number, bar code or, successive signet (optional equipments), etc
3.Besides above application, this fiber laser marker is suitable for: anodized sculpture, hand tools deep carved, aluminum a deep carved, stainless steel surface carved black, IC table sculpture, etc.
4.This jewelry hardware fiber laser marker also has following advantages: small volume, avoid consumables, flexible degree is high, use 5-100000 hours and hours without power attenuation problem.
6.The 50W fiber laser marker adopts Germany scanning galvanometer. It has high scanning speed and good quality laser beam.
7.The 50W IPG fiber laser marker adopts high grade motherboard which has powerful features. This software can be matched with CorelDraw, AutoCAD, Photoshop and others. It also support PLT,PCX,DXF,BMP,etc. It also can directly uses SHX and TTF FontLab.
8.This fiber laser marker has red light preview functions too.
9. This jewelry hardware fiber laser marker has manual adjustment laser optics functions which is good for fine marking.
10. The cabinet type fiber laser marker has X and Y axis bidirectional mobile platform and 360 degrees rotary fixture which is good for plane, cylindrical or conicalness marking.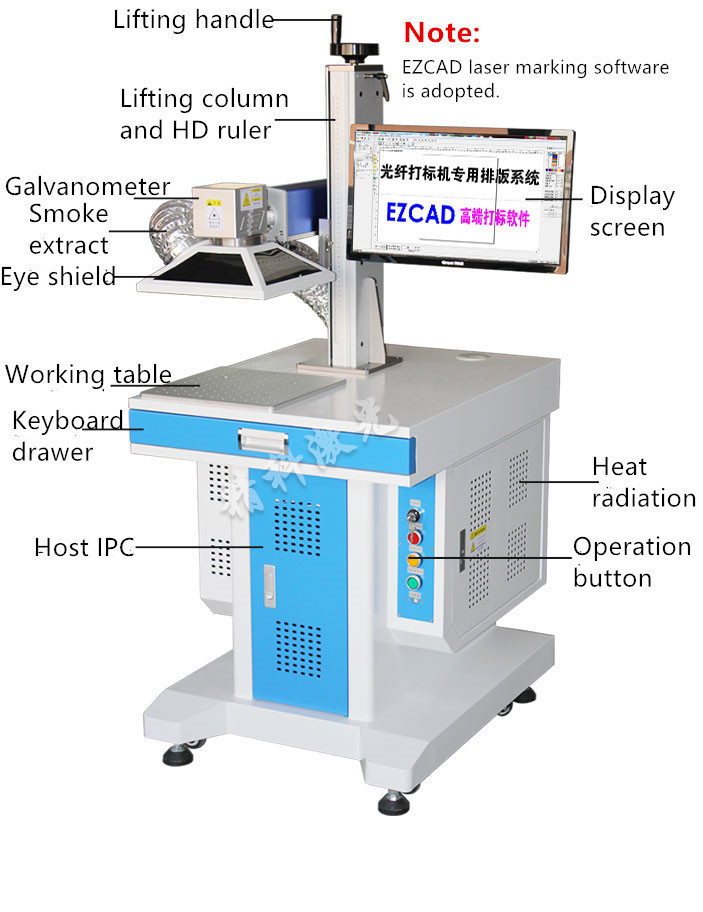 Specification
1. Model:LF-10, LF-20, LF-30 or LF-50
2. Wave length:1064um
3. Laser power:10W ,20W,30W or 50W IPG, Raycus or Max
3. Marking thickness:More than 0.8mm(depends on materials)
4. Min line width:0.05mm
5. Working distance:500mm
6.Marking speed: Less than 10000mm/S
7. Min character: 0.2mm
8. Repeatability precision: 0.002mm
9. Laser security classification: Class IV
10. Laser marking size: 110x110mm standard,70x70mm,200x200mm or 300x300mm optional
11. Operation software: EZCAD, it can support windowsXP/7 32
12. Graphic format: PLT,DXF,AI,SDI,BMP,JPG,JPEG,GIF,TGA,PNG,TIF,TIFF
13. System protection: IP54
14. Galvanometer: Germany technology product
15. Control interface: USB
16. File format: All font and graphemic of Windows
17. Input voltage: 110/220V
18. Cooling method : Air cooling
19. Optional spares:Various fixtures, assembly line working table, multistation working table, rotatable working table,etc.
20. Overall power consumption: Less than 500W, Less than 700W, Less than 1000W
21. Machine size: 600x650x1300mm
22. Machine weight : 75KG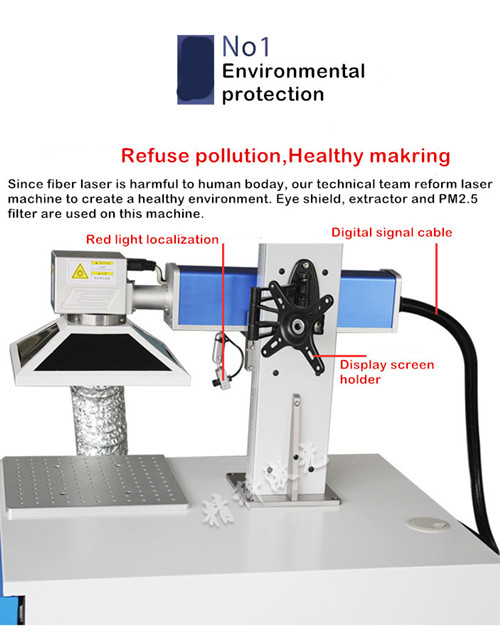 Applicable Materials
Can be used in wood,paper,leather,cloth,organic glass, epoxy,acrylic,unsaturated poluester resin and other non-metal materials.
Applicable industry
Widely used in leather,food,beverage,cloth,electronic,meter,communication instruments,package and other industries,can be combined with streamline for online marking.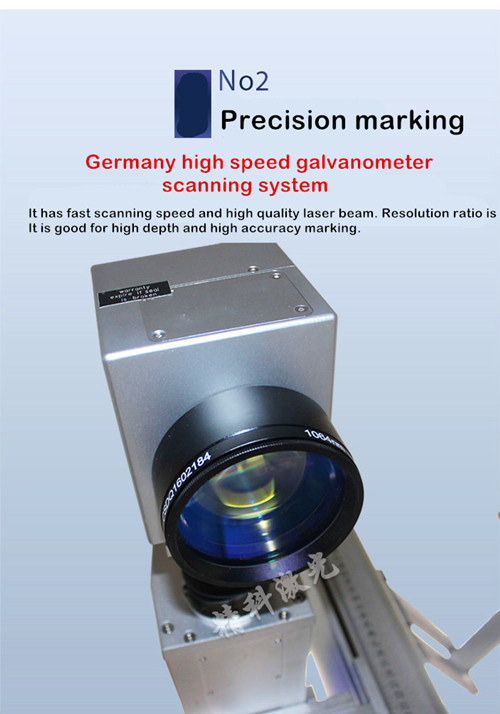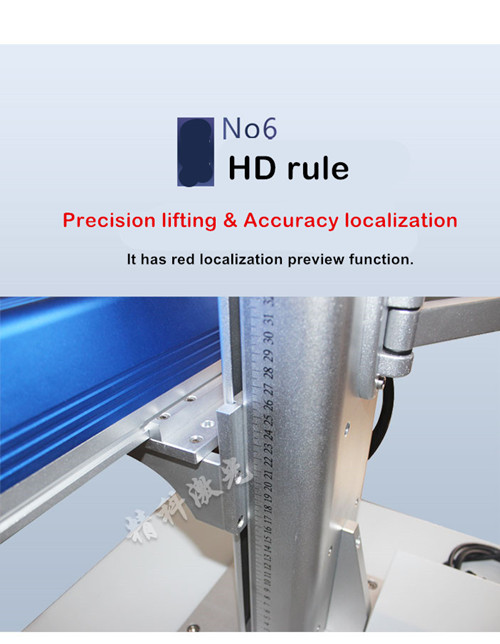 When CO2 laser tube doesn't output laser and how to check CO2 power supply works normally? 1. Check if water circulation is normal(mainly check if water flows smoothly at cooling water outlet ). If not any water or water doesn't flow smoothly, please check water pump and clear water pipe. 2.If water circulation is good, please check CO2 laser power supply. Check if power supply's indicators
...more