EZCAD XY Table Flying Fiber Laser Marking Equipment
EZCAD XY Table Flying Fiber Laser Marking Equipment
Rubylasertech

Jinan,China

120-12 working days after payment receied

40 seets each month
1.CE,FDA certificate, No Laser Additives added. Desktop/ flying, CO2/ Fiber/ UV,Chinese/ imported Laser is optional. This flying type fiber laser arking equipment has long service time
2.This EZCAD fiber laser marking equipment supports PLT, PCX, DXF, BMP and so on. The laser marking equipment also can use directly SHX and TTF font.
3.This XY table fiber laser marking equipment adopts humanized design,convenient installation,small power consumption and stability laser output
LF-50 Split Type Fiber Laser Marking Equipment
Feature
1.This EZCAD fiber laser marking equipment has high marking precision,free maintenance, easy operation and xcellent optics laser beam quality.
2. This flying type fiber laser arking equipment has long service time. Its laser generator service time is over 100,000 hours
3. This XY table fiber laser marking equipment adopts humanized design,convenient installation,small power consumption and stability laser output
4. This 50W fiber laser marking equipment has high electronic conversion efficiency.
5. This flying laser marking equipment has import high speed galvo scanner system
6. CE,FDA certificate, No Laser Additives added.
7. Desktop/ flying, CO2/ Fiber/ UV,Chinese/ imported Laser is optional
8. This EZCAD fiber laser marking equipment supports PLT, PCX, DXF, BMP and so on. The laser marking equipment also can use directly SHX and TTF font.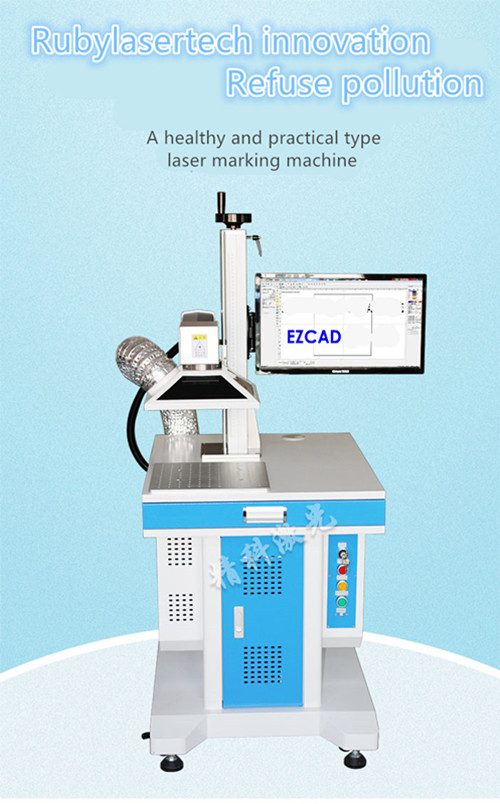 Specification
1.Out put laser power: 20watt, 30watt, 50watt or others
2.Wavelength: 1064nm
3.Power Modulation Range: 10-100%
4.Pulse Repetition Frequency: 20-100KHz
5.Output Beam Quality: less than 1.5M²
6.Marking Depth: less than1.2mm
7.Min. Focusing Spot :0.005mm
8.Min. Character Height: 0.15mm
9.Max. Marking Speed :12000mm/s
10:Format Supported Graphics, text, bar code, two-dimensional code, date, frequency,batch number, serial number, file link.
11. Operating System : win7,win8 and win10 .
12.Re-precision :0.001mm
13.Overall Power : less than 160W
14.Power Supply INPUT 220V±10%/50Hz/4A default
15.Cooling Air: Cooling
16.Control Interface: USB
17.Laser Module service time: More than 100000h
18.Galvanometer: High performance scanning galvanometer
19.Working Environment| No dust and no source of vibration forced, anti-arc, anti-static, anti-shock, anti-scratch.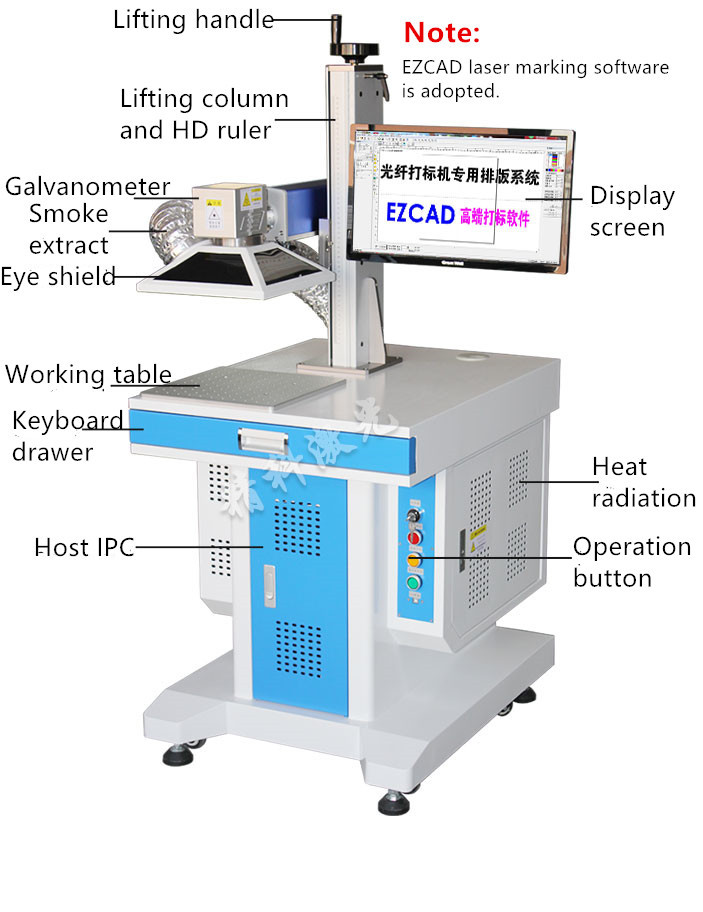 Aookucatuib
Electrical Engineering and Electrical part and component
Mobile (Cover,battery,keyboard, I Phone Case)
Jewellery(Ring,pedeant,bracelet),eyeglass,clocks and craft
Building materials,PVC pipe
Car motor car spare part ,Insturment and meters and cutting tool
Plastic case,aviation and aerospace,
Military product,hardware fitting and accessory,sanitary appliance
Food and beverage ,Medicine package and medical instrument,solar PV industry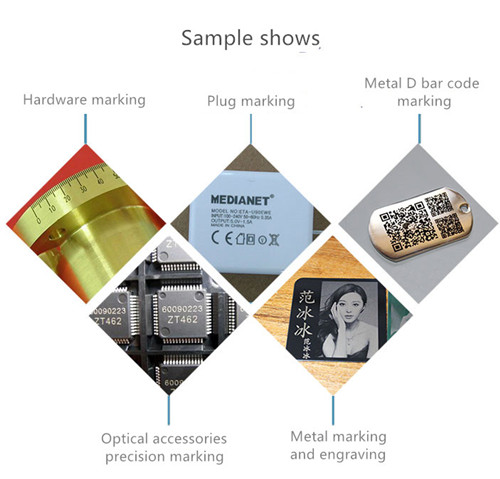 When CO2 laser tube doesn't output laser and how to check CO2 power supply works normally? 1. Check if water circulation is normal(mainly check if water flows smoothly at cooling water outlet ). If not any water or water doesn't flow smoothly, please check water pump and clear water pipe. 2.If water circulation is good, please check CO2 laser power supply. Check if power supply's indicators
...more