Split PCB Assembly Line Fiber Laser Marking Machine
Split PCB Assembly Line Fiber Laser Marking Machine
Rubylasertech

Jinan,China

10-12 working days after payment received

40 sets each mnoth
1. This split type fiber laser marking machine adopts Germany third generation fiber laser. It makes super and fine marking effect.
2. This PCB fiber laser marking machine adopts professional industrial computer which makes the machine can longtime work at bad condition.
3. This assembly line fiber laser marking amchne uses integrated built-in design that makes client usage easy and offer ideal solution for various industrial processing
LF-20 Split Type Fiber Laser Marking Machine
Features

1. This split type fiber laser marking machine adopts Germany third generation fiber laser. It makes super and fine marking effect. At the same time it doesn't have consumables, low maintenance and high photoelectric conversion rate.
2. This PCB fiber laser marking machine adopts professional industrial computer which makes the machine can longtime work at bad condition.
3. This assembly line fiber laser marking amchne uses integrated built-in design that makes client usage easy and offer ideal solution for various industrial processing. New closed type optical path design makes thisfiber mark machine have beautiful appearance and stable working performance.
4.This 20watt fiber marking machine has compact size and it makes easy handle. The small working table makes focus length adjustment easy which is good for marking small arts and crafts, jewelry and hardware.
5. The digital scanning galvanometer has high anti-interference ability which makes this assembly line laser marking machine has no deformation during high speed marking. The Germany high speed canning galvanometer has fast marking speed.
6. This PCB marking fiber machine can support BMP,JPG,DXF,PLT,AI and other documents and automatically generate various serial number, production date, one-dimensional code and two-dimension code.
7. The 20W laser marking machinesupports rotary marking and automatic segmentation marking at large area XY working table.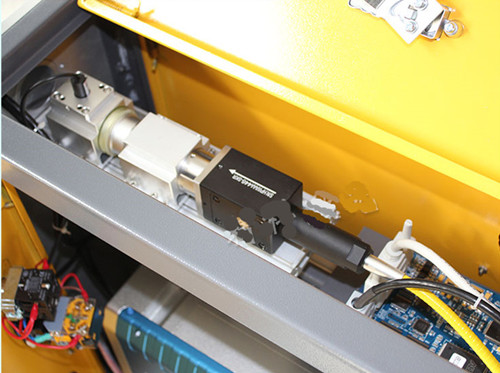 Specification
1.Laser power:10W,20W,30W,50W IPG,Raycus or Max
2.Laser wave length:1064nm
3.Laser beam quality:10W(not more than 1.4 at each square meter),20W(not more than 1.4 at each square meter)
4. Repeat frequency rate:20-100KHz
5.Marking line speed: more than12000mm/second
6.Marking thickness: more than 0.5mm(depend on material and laser power)
8.Min character:0.15
9. Repeat accuracy:0.002mm
10. Power consumption: not more than 500W
11. Electrical power:AC110-220VAC 50Hz,5A
12.Cooling method: Air cooling
13. 2D working table is default device. If 3D working table is needed, extra money will be charged. The working table size is 210x150mm.
14. Service time of laser:10000hours and machine service time is 8-10 years.
15.Optional marking area :70x70mm,110x110mm,250x250mm,300x300mm
16.Machine size:650x500x220mm
17.Weight:35Kg
18. Character type: English character, Truetype,etc
19.Code type:CODE39,EAN standard code,CODE128,EAN shortened code,EAN128 bar code, Datamatrix,PDF417,etc.
20.Laser marking control board: Chinese or other countries marking control board. Location system: red localization
21.Makring software: It can support Chinese or other countries marking softwares.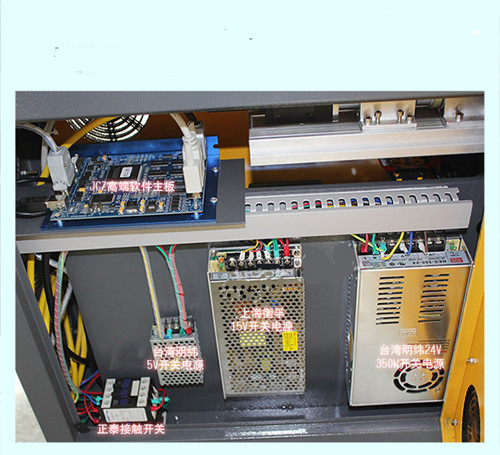 Applicable Materials
Can be used in wood,paper,leather,cloth,organic glass, epoxy,acrylic,unsaturated poluester resin and other non-metal materials.
Applicable industry
Widely used in leather,food,beverage,cloth,electronic,meter,communication instruments,package and other industries,can be combined with streamline for online marking.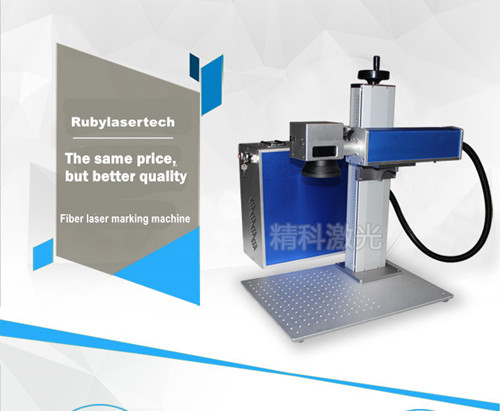 When CO2 laser tube doesn't output laser and how to check CO2 power supply works normally? 1. Check if water circulation is normal(mainly check if water flows smoothly at cooling water outlet ). If not any water or water doesn't flow smoothly, please check water pump and clear water pipe. 2.If water circulation is good, please check CO2 laser power supply. Check if power supply's indicators
...more